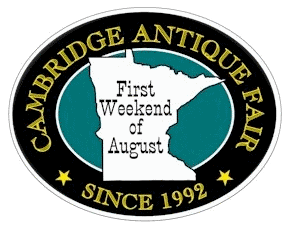 When
Saturday, August 5th - 8:00 am - 5:00 pm &
Sunday, August 6th - 9:00 am - 4:00 pm
Over 200 Dealers
Cambridge hosts over 100 of antique dealers from all over the Mid-West, so you're bound to see lots of antiques that you haven't seen elsewhere. Items in all price ranges and collecting categories can be found. The size of the show is just about right for a day-trek from many of the region's population centers and countryside.
Souvenirs
We will have a new piece of commissioned pottery available to celebrate our 26th anniversary. Stop by our table in the Curling Building to see the 2016 item as well as a number from previous years.
Many varied concessions for your enjoyment
We think we have the best selection of food at Cambridge compared to any other regional show.
Prize Drawings
Register for a visa gift card.
Discount Admission
Print out your own coupon for discount admission. The regular admission price for Saturday and Sunday is $6.00. Remember, children 12 and under are free with parents.
This is a coupon for the Antique Show compiled as an Adobe PDF file.
Dealer Day
Come on Friday for Dealer Setup Day and get first dibs on the items you're hunting for. Early-bird admission is $20.00, good for the weekend.