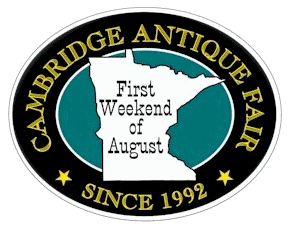 Dealer Information
The Cambridge Antique Fair hosts over 200 dealers from the Mid-West. Whether you are a beginning or advanced dealer in antiques and collectibles, you should consider doing Cambridge. It is always held on the first weekend of August.
Where is the Cambridge show?
The Isanti County Fairgrounds is located about one mile east of Highway 65 on Highway 95 in Cambridge, Minnesota. Cambridge is about 40 miles due North of the Twin Cities metro area. The general location is ideal since the show draws thousands of people from the relatively close Twin Cities, but also many from Central and Northern Minnesota who like to avoid the city. The fairgrounds itself is one of the nicest in the state. Many improvements are made every year, and the land is flat and open. We use 11 buildings on the fairgrounds for our indoor dealers. See below for directions to Cambridge from anywhere.
How big is it?
In the last several years the average paid attendance has grown to over 4,000.
What should I bring to sell?
Customers are looking for a wide range of items. Antiques, Vintage, Collectibles, Shabby Chic, Modern Decor, Household, Flea Market, Hunting and Fishing, Men's Interests, You name it and they might be looking for it.
How far ahead should I sign up?
We typically start a wait list for inside space in May, but large or wall spaces sell out sooner. We require a deposit of only half down, so if you've decided to set up at Cambridge, send in the contract right away. We assign outside spaces as they are reserved, and spaces toward the front gate and mid-section are assigned first. The layout allows us to send in the public from both the front and the back of the fairgrounds, so there really are no "bad" spaces.
May I arrive early?
Yes, but it costs more. General setup for dealers begins on Friday morning at 7 AM. If you want to set up early, you must arrange it with us beforehand. While you may arrive as early as Wednesday morning, the earliest possible setup time is Thursday at noon. We will not guarantee early setup due to complications that are beyond our control. However, the additional cost of early arrival is $20 per night before Friday.
This is a dealer contract for the Antique Show compiled as a fillable pdf file. Although it is formatted for legal size paper, the Reader will reduce the size and print to letter size paper in your printer. Open this file with Adobe Reader and type in the fields, you may save and print the contract.
Directly from the Minnesota Department of Revenue. We need to have one on file for all exhibitors. If you're not a dealer, just mark "Collector selling items from a personal collection" on the form and return with your contract.
This is a map of the Cambridge Area from Bing. The fairgrounds are located one mile East of Highway 65 on Highway 95, on the North side of the road.
This is a listing of local motels from Yahoo.